Sätky's mailing lists
The guild is using two different mailing lists to inform the members about a wide variety of occurring things.
The mailing lists are named as follows:
Tiedotuskanava
Things related to studies, studying and guild.
Jobs
Job offers and things related to the business world
How to join mailing lists
Do the following operations to join mailing lists:
Open incognito tab in a browser of your liking and sign in to the email account you wish to join the mailing list.
Send an email to the address mailinglist+subscribe@satky.fi (replace 'mailinglist' with the name of actual mailing list name, for example jobs+subscribe@satky.fi)
You will receive an automatic response in a few minutes with title Join request for Sätky's mailing list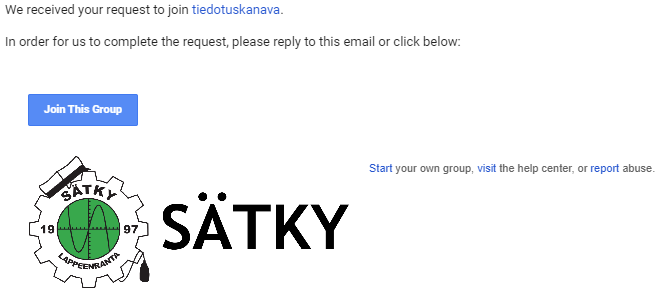 You can join the mailing list by pressing the button or by replying the message. By pressing the button you will be able to type in your email address after reCAPTCHA bot-check.
Pressing the button does not always work and you might receive an error shown in Fig. 3. In this case use the instructions below.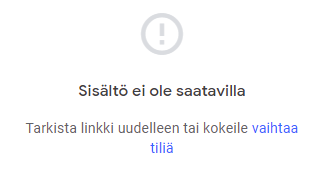 If pressing the button does not work, you need to join the mailing list by replying to the automatic email. The title and content of the reply do not matter, you can leave them blank.
If everything goes as it should, you should now receive a message with title You have joined the group listname@satky.fi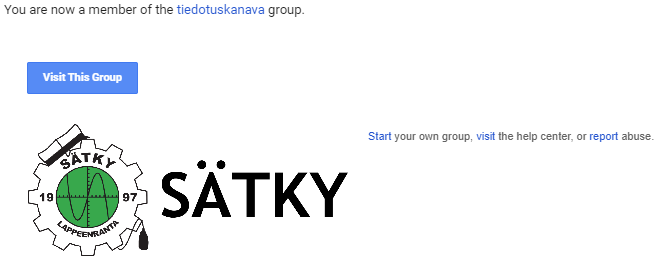 Notes and troubleshooting
Use incognito tab or log out of every email accounts you wish not to join Sätky's mailing list.

Especially Gmail-accounts are witnessed to be problematic.

If you do not receive the response email within a few minutes, please check the trash folder.

This is usual problem with @student.lut.fi-accounts.

If you can not resolve the problem, please contact pj(at)satky.fi or www(at)satky.fi.
Resigning the mailing lists
Send an email to email address mailinglist+unsubscribe@satky.fi.
You should receive a confirmation message with title Your unsubscription to mailinglist was succesful.